John Toussaint and Kim Barnas Receive Shingo Publication Award for Becoming the Change
The Lean Enterprise Institute celebrates that The Shingo Institute, a program of the Jon M. Huntsman School of Business at Utah State University, has awarded John Toussaint, MD, and Kim Barnas the Shingo Publication Award for their book, Becoming the Change: Leadership Behavior Strategies for Continuous Improvement in Healthcare.
Toussaint, a pioneer in adopting lean thinking and practice in the healthcare industry, served twelve years as an LEI Board Member until mid-2001. LEI copublished the book in collaboration with McGraw Hill and Catalysis Inc., a nonprofit dedicated to positively transforming the healthcare industry through organizational excellence.
Receipt of the award "signifies an author's significant contribution and practical application to the body of knowledge regarding organizational excellence," says Ken Snyder, executive director of the Shingo Institute.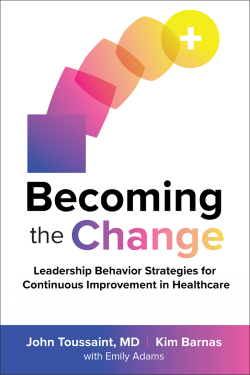 Becoming the Change is a powerful new approach to healthcare leadership. Drawing on a wealth of behavioral research, industry case studies, and personal insights from healthcare professionals, the two renowned healthcare transformation experts provide a practical blueprint for implementing the principles and behaviors leaders at all levels must embrace to create more value within the healthcare industry. The book highlights executives in health systems around the world as they practice behavior-based solutions to organizational problems, support continuous improvement, reflect and assess themselves as leaders, and achieve better results for patients.
John Toussaint and Kim Barnas demonstrate that "the key element in any sustainable transformation is new beliefs and management practices by leaders," said James P. Womack, PhD, founder and senior advisor at Lean Enterprise Institute. "They offer a plan for every healthcare leader to truly become the change in the quality and productivity of their organization—along with enhanced patient and employee experience—by first changing their own behavior. It isn't easy and it requires perseverance, but it is possible, and Becoming the Change shows how."
Commenting on the award-recipient book, John Shook, chairman of Lean Global Network, said, "Personal transformation without organizational transformation is difficult. It isn't easy to be an island of lean thinking surrounded by a turbulent sea of conclusion-jumping followed by analysis paralysis. 'Becoming the change' means exactly that: the transformation we so desperately need today will occur only when those of us who lead embrace the transformation personally."
The authors will receive their award at the Awards Gala during the Shingo Conference in Provo, Utah, USA, on May 23, 2023. The conference features benchmarking tours, workshops, keynote speakers, and interactive break-out sessions designed to provide ongoing knowledge, insights, and experience for organizations pursuing operational excellence.
To learn more about the conference, please visit https://shingo.org/events.To order your copy of Becoming the Change: Leadership Behavior Strategies for Continuous Improvement in Healthcare, visit https://www.lean.org/s=becoming+the+change.
About the Lean Enterprise InstituteLean Enterprise Institute Inc. is a 501(c)(3) nonprofit based in Boston, MA, with a mission to make things better through lean thinking and practice by helping companies create more value and prosperity while consuming the fewest possible resources. Founded in 1997 by management expert James Womack, PhD, LEI conducts research through co-learning partnerships with companies, teaches on-site and online workshops, publishes books and ebooks, organizes conferences, and shares practical information about lean thinking and practice at www.lean.org.
About the Shingo Institute The Shingo Institute is home of the Shingo Prize, an award that recognizes organizations that demonstrate an exceptional culture that fosters continuous improvement. Part of the Jon M. Huntsman School of Business at Utah State University, the Shingo Institute is named after Japanese industrial engineer and Toyota adviser, Shigeo Shingo. Dr. Shingo distinguished himself as one of the world's thought leaders in concepts, management systems, and improvement techniques that have become known as the Toyota Production System. Drawing from Dr. Shingo's teachings and years of experience working with organizations worldwide, the Shingo Institute developed the Shingo Model, which is the basis for its several educational offerings, including workshops, study tours, and conferences. Workshops are available in multiple languages through the Institute's Licensed Affiliates. For more information on workshops, affiliates, or to register to attend the Annual Shingo Conference, please visit www.shingo.org.
Media Contact:Matt Savas
Director of Content
Lean Enterprise Institute
508-612-1527twitter | linkedin